- Products - Physik Instrumente (PI) GmbH & Co. KG
Optical Power Meter for Applications in Silicon Photonics (SiP)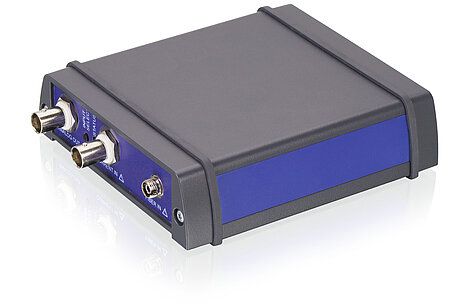 The low-loss coupling of (light) power from a glass fiber into a photonic component (or vice versa) is an essential prerequisite for functional optical networks. In addition to its high-precision mechanical coupling systems, PI (Physik Instrumente) offers the F 712.PM1 power meter with which the accuracy of the coupling can be monitored. The power meter converts the optical signal with high resolution and extremely high bandwidth (20 kHz) into a voltage signal. It operates in a wide wavelength range from 400 nm - 1550 nm and, therefore, enables work in the visible and infrared ranges without switching.
The design of the optical input enables measuring of the optical signal independent of the position of the optical fiber in the connector. A photodiode can also be connected using an additional current input and the diode current can be converted into a logarithmic voltage signal. The precise, logarithmical output signal is ideal for optical alignment systems. The optical power meter is, therefore, suitable for the fastest fully automatic alignment systems available on the market.
PI in Brief
Well known for the high quality of its products, PI (Physik Instrumente) has been one of the leading players in the global market for precision positioning technology for many years. PI has been developing and manufacturing standard and OEM products with piezo or motor drives for more than 40 years. By acquiring the majority shares in ACS Motion Control, a worldwide leading developer and manufacturer of modular motion controllers for multi-axis and high-precision drive systems, PI has made a major step forward in being able to offer complete systems for industrial applications with the highest demand on precision and dynamics. In addition to four locations in Germany, the PI Group is represented internationally by fifteen sales and service subsidiaries.
Downloads
Others
Press information kit - F-712.PM