- Company - Physik Instrumente (PI) GmbH & Co. KG
PI (Physik Instrumente) Appoints Dr. Thomas Bocher as Head of Segment Marketing for Microscopy & Life Sciences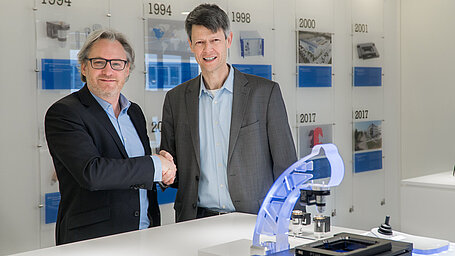 Dr. Bocher brings 10 years of experience with him as product and segment manager at Carl Zeiss Microscopy GmbH as well as more than 6 years of experience as product and segment manager at Bruker BioSpin GmbH. For six years, he was also chairman of the ISO TC172 SC5 committee for international standardization in the field of light microscopy and endoscopy.
"I started work at PI in my new role with a great deal of pleasure and enthusiasm. The variety of precision positioning technology available from PI, together with years of experience in implementing customized solutions with a global outlook and the high motivation and expertise of all members of staff at PI, provide the best conditions for significant growth in this market segment!" explains Dr. Thomas Bocher.
The Market Segment Microscopy & Life Sciences
The entire field of microscopy has been in a very dynamic upward trend for some years and this also includes its subsectors super-resolution fluorescence microscopy, near-field scanning microscopy, Raman and IR microscopy, electron microscopy, and atomic force microscopy. In addition to ultrahigh-resolution examination of the genome and the proteome, there has also been an increase in observing, processing, positioning in the nanometer range, which manifests itself in NanoLabs, Nanofabs, and 3-D nanoprinting. This applies both to research and industrial application. The importance of micro- and nanopositioning in life sciences continues to increase significantly and this includes endoscopy, surgery, radiation therapy, and applications in genetic sequencing.
About PI
Well known for the high quality of its products, PI (Physik Instrumente) has been one of the leading players in the global market for precision positioning technology for many years. PI has been developing and manufacturing standard and OEM products with piezo or motor drives for 40 years. By acquiring the majority shares in ACS Motion Control, a worldwide leading developer and manufacturer of modular motion controllers for multi-axis and high-precision drive systems, PI has made a major step forward in providing complete systems for industrial applications with the highest demand on precision and dynamics. In addition to four locations in Germany, the PI Group is represented internationally by fifteen sales and service subsidiaries. www.pi.ws
Downloads
Others
Press information kit - Thomas Bocher