- Products - Physik Instrumente (PI) GmbH & Co. KG
Fast, Precise, and Reliable in Limited Installation Space: Single and Two-Axis Ultrasonic Piezo Positioning Systems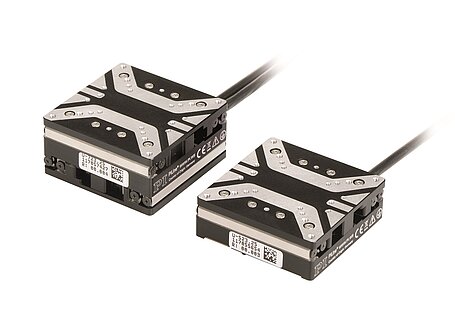 PI (Physik Instrumente) has now extended the established PILine® series for these tasks and offers two new positioning stages with ultrasonic piezo drives: The very compact U-523 linear stage with a length and width of only 42 mm and a height of 14 mm, and the U-723 XY stage that, despite an additional axis, is only 7 mm higher. This makes it possible to reduce the installation space, mechanical effort for mounting and alignment as well as acquisition costs for positioning in the XY direction.
The travel ranges of the axes for both variants extend to 22 mm with a drive force of 2 N. Precision positioning of loads to 5 N is possible in closed-loop operation with velocities to 200 mm/s; the minimum incremental motion is 0.1 µm. Noncontact optical linear encoders detect the position directly at the platform. Measuring is not influenced by nonlinearity, mechanical play or elastic deformation. The integrated anti-creep system of the roller cage increases the reliability and lifetime because the cage is moved as well.
The functional principle of the ultrasonic piezo motor also ensures self-locking of the drive when it is switched off. As a result, it does not consume any power, does not heat up, and keeps the position mechanically stable. Applications with a low duty cycle that are battery-powered or heat-sensitive benefit from these characteristics.
Motion controllers from the C-867 series are used to control the new PILine positioning stages.
For more information, refer to:
PI in Brief
Well known for the high quality of its products, PI (Physik Instrumente) has been one of the leading players in the global market for precision positioning technology for many years. PI has been developing and manufacturing standard and OEM products with piezo or motor drives for 40 years. By acquiring the majority shares in ACS Motion Control, a worldwide leading developer and manufacturer of modular motion controllers for multi-axis and high-precision drive systems, PI has made a major step forward in providing complete systems for industrial applications with the highest demand on precision and dynamics. In addition to four locations in Germany, the PI Group is represented internationally by fifteen sales and service subsidiaries.
Downloads
Others
Press information kit - Ultrasonic Piezo Positioning Systems