- Products - Physik Instrumente (PI) GmbH & Co. KG
Planar Scanner with Air Bearing for High Precision and Velocity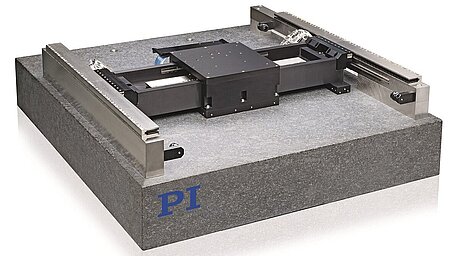 This makes the planar scanner suitable for use in inspection systems for example, that require high precision and throughput and need to work under cleanroom conditions.
Coupling the crossbeam to the lower axis via a flexure provides yaw-compliance without sacrificing system stiffness. Ironless linear motors provide smooth motion and no cogging torque or attractive forces.

The PIglide planar scanner is equipped with three high-accuracy linear encoders: One for the lower axis and two for the upper axis. Both incremental and absolute encoder options are available.

The A-322 is operated with digital controllers from leading manufacturers. For example, the offer advanced control algorithms for improving the dynamic performance and guide error compensation as well as a large selection of software development tools.
Datasheet: A-322 PIglideTM HS Air Bearing Stage
Downloads
Others
Press information kit - A-322